Fires are still burning at the site of two massive explosions in the Chinese city of Tianjin, some 36 hours after the blasts.
Military chemical experts are testing for toxic gases and rescuers have been told to wear protective clothing.
At least 56 people died and more than 720 were injured, 25 critically, in the explosions late on Wednesday evening, according to state media.
But search teams found a survivor in the debris early on Friday.
The man pulled from the rubble 32 hours after the blast was named as 19-year-old firefighter Zhou Ti, state-run news agency Xinhua reported.
Twenty-one firefighters are reported to be among the dead and several more are missing. Fire crews were already at the site when the explosions took place, having been called out after reports of a container fire.
Tianjin's fire department chief Zhou Tian told reporters that more than 1,000 firefighters and 140 fire engines were still battling flames at the scene on Friday.
The Tianjin Port Group Company said dozens of its employees remained unaccounted for, according to Xinhua. The warehouse that exploded in the port area is owned by a company called Ruihai Logistics, which specialises in handling hazardous goods.
The company's website says these include compressed gas, flammable liquid and toxic chemicals - some of which become highly explosive when mixed with water.
But city officials said on Friday they still did not know what materials were at the warehouse at the time of the fire, or what caused the blasts.
Gao Huaiyou, deputy director of Tianjin's work safety watchdog, said there were discrepancies between accounts by company and customs officials, adding that damage to company offices made it hard to identify the chemicals.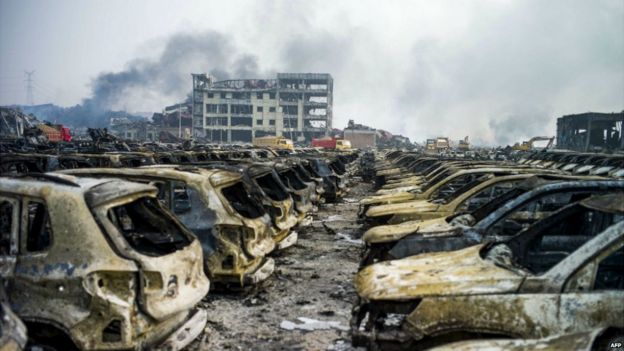 The BBC's John Sudworth in Tianjin says that once the fire is extinguished, the chemical containers will be moved to a safety zone, away from the heat, so that the contents can be analysed.
Tianjin's residents remain nervous, he adds, with some posting concerns online about the environmental impact and suspicions that the public may not be hearing the full truth.
The head of Tianjin's environmental protection bureau, Wen Wurui, said pollution levels were being monitored and other officials insisted any contaminants had been contained.
Fires are still sending plumes of smoke over the destroyed buildings, burned-out vehicles and crumpled shipping containers that bore the brunt of the explosions.
More news, photos at BBC News
Here is a video that someone sent me on the blast. Viewer discretion advised.